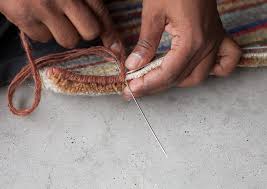 Hand-knotted area rugs can add flare and style to any space. Most commonly used in homes and offices, these area rugs are nothing less than pieces of art work that can be walked on. Besides their stunning one-of-a-kind beauty, there are also many benefits that come when purchasing a hand-knotted rug. 
Superior Craftmanship
Rug weaving is a skill that is practiced in many parts of the world, but mostly in Eastern countries. These skills have been passed down through generations, ensuring that the legacy of the family lives on and the creation of beautiful rugs can continue through to future generations. The skill level of the weaver contributes to the durability and beauty of the rugs they create. 
 Durability
When it comes to standing the test of time, handmade rugs are widely regarded as the most durable types of rugs available. Hand knotted rugs do not contain any adhesives or glue.  As a result, they are washable and will not decay like machine-made area rugs. Because they contain no chemicals, hand knotted area rug can be thoroughly cleaned. Unlike machine-made rugs, the organic fabrics used in handmade rugs do not deteriorate. Because of the way a handmade rug is made, it can withstand heavy use and traffic for years while still looking brand new. Vintage rugs are made to last and not fray or fall apart like cheap imitations. Hand knotted rugs, unlike machine made rugs, can withstand heavy foot traffic for decades and are designed to last a lifetime.
Toxin free and Environmentally friendly
As society becomes more aware of the importance of its need to reduce our carbon footprint, we also are realizing the need to reduce the exposure to harmful chemicals and toxins. These rugs are chemical and toxin free, and they can be introduced into your home with no concern for your health or the health of others. Furthermore, handmade rugs have a low environmental impact. An artisan creates a hand knotted area rug out of organic fabric, such as wool dyed with natural vegetables and derived from sheep. Sheep are not harmed during the shearing process. In fact,  they need to be sheared for their own health during the warmer months. Because of traditional practices such as hand knotting an area rug and sourcing organic fabrics, the creation of a hand knotted area rug has no negative impact on the environment. Once the rug has been weaved,  is meticulously washed using toxin-free cleansers before it is shipped for delivery to remove any unwanted particles and odors. 
Valuable Investment
Unfortunately, with each passing year, the number of artisans who create these beautiful works of art decreases. This fact, combined with the other advantages of these rugs, makes purchasing hand knotted rugs a wise investment. A hand knotted area rug's value frequently rises. This increase in value can begin as soon as the rug is finished and continue to appreciate in value if taken care of. These rugs are not easily damaged and are extremely long-lasting.
 Classic beauty
The stunning beauty of a hand knotted area rug is one of its many advantages. Color, texture, and design combine to create an incredible piece of art that will add a tremendous amount of style to your home, place of business, or any other location. Every square inch of the finished product reflects the attention to detail and effort required to create a hand knotted area rug. 
There are many benefits to owning a hand-knotted rug- including their timeless beauty, durability, and investment value. Come by our showroom located at 1019 Lincoln Avenue in Evansville, IN and let our experts show you our extensive collection of hand-knotted products.
Contact The Rug Merchant today to find YOUR perfect rug!
For your convenience, we offer in-home appraisals. Please call us to get rates.