When people come into our showroom, one of their biggest concerns is making sure that their new rug doesn't clash with their furniture. Whether it be a heavily patterned accent chair or small checkered sofa and love seat, a solid-colored rug doesn't have to be your only option. So, what makes an area rug "busy"? The short answer is contrasting colors. Take a damask rug for example. While it is patterned, the tone on tone colors allows the rug to be interesting without being busy. On the other hand, if you were to take the same pattern and throw in contrasting colors, like orange and teal, your eye would be drawn to the pattern, making the rug feel overwhelming to any patterns already in the room.
Tips to help us help you:
Consider designing your room around the rug. It will be easier to pair accent chairs and trinkets with an area rug than to try to match an area rug with existing pieces. If you already have your furniture, bring a swatch with you to compare to the rugs you like.
If the furniture in your space is neutral, consider adding a rug to your floor with a bit more color. If you choose to decorate with heavily patterned furniture, look for rugs that use tone on tone colors that will compliment your existing furniture.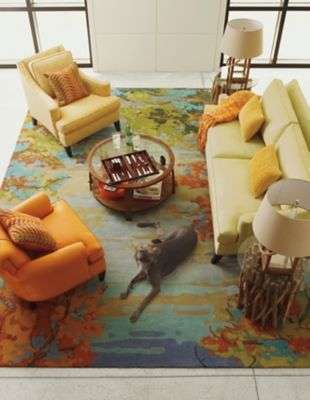 Contact The Rug Merchant today to find YOUR perfect rug!
For your convenience, we offer in-home appraisals. Please call us to get rates.